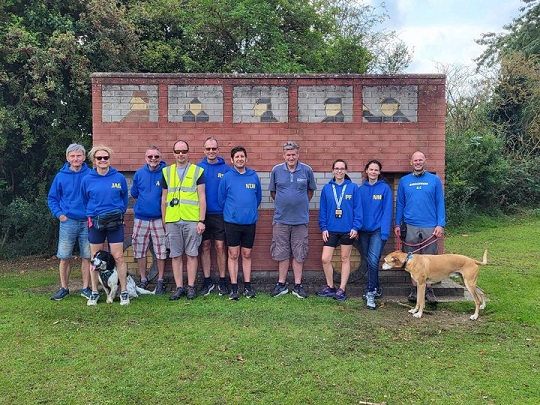 Over the weekend Biggleswade Athletic Club participated in the Round Norfolk Relay (RNR). The RNR is a team event and consists of 17 stages of varying distances following the Norfolk county border (a total of 198 miles), starting and finishing at Lynnsport in Kings Lynn. The Relay commences on Saturday morning and goes through the night, ending the following Sunday morning. It is an exceptional, unique road running event and one which is a firm fixture in the Biggleswade AC race calendar. Thank you to all who ran and supported, particularly with cycle and vehicle assistance, and to the BAC RNR Committee for planning and Club member Damien Pitts for team coordination and timekeeping. BAC's finishing time was 27 hours 28 minutes. 
BAC runners: Nick Haworth, Ian Grimwood, Deb Bryant, Richard Hill, Andy Hedley, Paul Davies, Nicky Upperton, Charlie Arnold, Sarah-Jane Harman, Alistair Nelson, Rob Morgan, Natalie Morgan, Frank McLoughlin, Natalie Garner, Juliet Grimwood, Paula Faller. 
Additional support provided by: Neil Harvey, Corinne Calligan, Roxann Holder and James Upperton. 
Fancy being a part of the event next year? Here's what BAC team member, Deb Bryant has to say about RNR:
Biggleswade AC had another fantastic weekend at the Round Norfolk Relay race, this was my 14th time of running in it and is the most amazing event, it's very well organised even though it must be a strategic nightmare! Our timekeeper Damo does a great job and must have shares in red bull to keep himself awake for so long! My highlights are always seeing how supportive everyone is to their team and all other team members, there's such a great camaraderie over the weekend, it's not just the runners but also the cyclists, night stage drivers and the people who just come along to support and all the marshals are amazing, if you've never been a part of it before I totally recommend it, you come away from the weekend with a very warm fuzzy feeling 😍
Check out the
Round Norfolk Relay
website for further information on what is involved and the different stages.  
Full results can be found here.