Following on from the recent Round Norfolk Relay team event, Biggleswade AC's runners were out racing once again for Club's designated 10 Mile and 10K Championships – Leighton 10 and Standalone 10K. The Championships are key dates in BAC's race calendar, with the respective annual trophies up for grabs based on an age grading of the finishing times. 
Sunday 24th September was the Leighton 10, hosted by Leighton Buzzard Athletic Club, which started and finished in the grounds of Ascott House in Wing. The course took in some rather testing hills, the most challenging being the last climb towards the end at the 9-mile mark. Congratulations to all who ran, and a huge well done to Rob Morgan, Ian Payne, Nicky Upperton and Natalie Morgan for coming away with the 1st Place Team prize for Biggleswade AC. 
Next up was the Standalone 10K in Letchworth last Sunday, organised by the North Herts Road Runners. The undulating course starts with a nice downhill through closed residential streets of Letchworth and on through to Norton village and the Stotfold by-pass before returning to race HQ at Standalone Farm for the finish line. Biggleswade AC had 33 runners participating in this popular local race. Fantastic results were achieved all round, including a 2nd Female finisher prize for Emily Varley and BAC scoring as 2nd Female Team after North Herts. Congratulations to Emily also for being BAC's 10K Female Club Champion and to Rob Morgan for being the 10K Male Champion.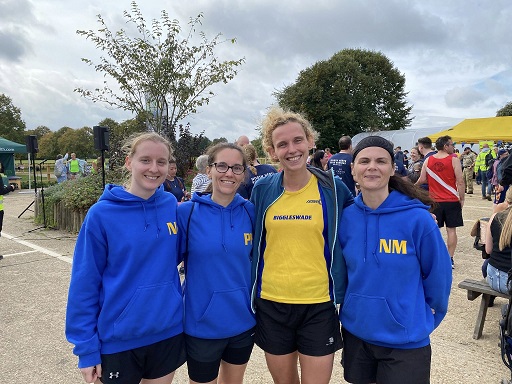 Standalone 10K 2nd Scoring Female Team
Leighton 10 Mile Results
Male

Name
Time
Position
Category Position
Age Grading
Rob Morgan
1:05:06
12
4
73.7% - Club Champion
Ian Payne
1:07:48
16
7
69.5%
Paul Swinburne
1:14:48
37
6
66.8%
Ian Grimwood
1:27:42
94
2
67.6%
Female
Name
Time
Position
Category Position
Age Grading
Nicky Upperton
1:16:27
44
3
64.5%
Natalie Morgan
1:20:01
62
4
67.6% - Club Champion
Juliet Grimwood
1:48:16
147
10
57.9%
Standalone 10K Results
Male
Name
Time
Position
Category Position
Age Grading
Rob Morgan
38.46
37
11
75.5% - Club Champion
Ian Payne
40:09
53
18
71.7%
Giles Hawthorne
43:04
93
31
69.0%
Alistair Nelson
43:17
99
47
61.6%
Paul Swinburne
43:54
107
9
69.4%
Nicholas Battarbee
47:23
208
5
57.1%
Richard Hill
47:30
211
27
66.8%
Damien Pitts
50:05
321
87
54.7%
Ian Grimwood
50:28
324
6
71.9%
Michael Ashiotis
51:20
348
91
55.0%
Alban Reynolds
51:53
373
119
51.5%
Andy Hedley
54:25
491
27
59.6%
Keith Yexley
54.52
526
31
60.4%
Stephen Atkins
56:53
609
39
62.0%
Simon Strong
1:07:13
932
107
45.0%
Colin Harries
1:24:05
1087
16
46.4%
Female
Name
Time
Position
Category Position
Age Grading
Emily Varley
40:35
57
2
74.7% - Club Champion
Nicky Upperton
45:20
134
5
66.8%
Natalie Morgan
46:50
191
7
70.0%
Paula Faller
50:28
323
18
62.2%
Sarah Geeson-Orsgood
53:02
433
23
61.7%
Jennie Day
56:49
600
16
63.4%
Juliet Grimwood
58:09
660
24
64.9%
Maria Merridan
58:58
694
58
59.5%
Holly Ochiltree
1:01:22
773
97
49.1%
Vicky Berry
1:07:04
928
52
57.0%
Samantha Thorogood
1:08:36
956
108
47.4%
Louise Pike
1:08:36
957
109
46.9%
Lynn Hill
1:09:59
983
60
52.5%
Shani Giddings
1:10:47
1000
62
54.8%
Rachel Fairhurst
1:12:46
1015
119
43.8%
Bev Strong
1:18:13
1070
134
43.7%
Julie Cooke
1:20:12
1076
137
39.8%